The Institute for the Humanities at the University of Illinois at Chicago seeks to foster an intellectually vital, interdisciplinary community of scholars working at one of the nation's most exciting urban research centers.  As the hub of humanities scholarship on campus, the Institute provides a forum for intellectual exchange among faculty and students at UIC and other colleges and universities in the region.  At its base, the Institute for the Humanities highlights the importance of public higher education and provides a space for the vigorous debate and exchange so crucial in a democratic society.
The UIC Institute for the Humanities will celebrate its thirty-sixth year of operation in 2018-2019. Founded in 1983, the Institute is one of the oldest humanities centers in the United States. Over the years the Institute has become the major hub for all humanities activities on campus creating an intellectual space in which faculty and graduate students can broaden their perspectives, conduct original research, and engage with scholars and communities both in and outside the university.
***Dear Colleagues,
Given concerns over the COVID-19 spread, Institute for the Humanities is making alternate plans for the remaining events of the semester. While some talks may be streamed, other events that will potentially bring together large groups of people will either be cancelled or postponed.  Please stay tuned for further information as alternate plans are finalized.***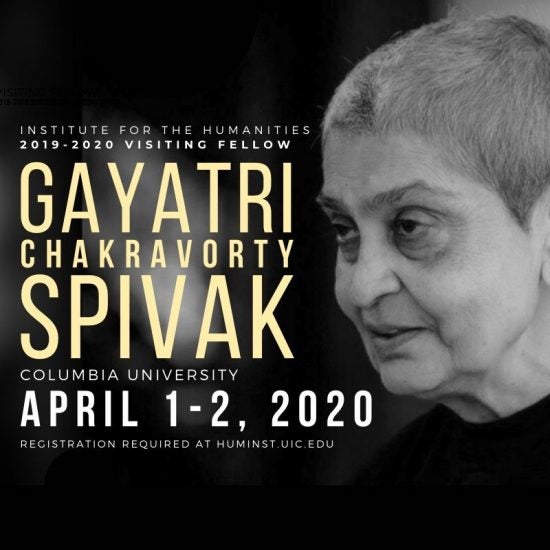 Visiting Fellow: Gayatri Spivak
RESCHEDULED: The Lecture and Seminar by Gayatri Chakravorty Spivak have been rescheduled and will take place for March 31 – April 1, 2021. Stay tuned for any additional information.
Gayatri Chakravorty Spivak is a critic, theorist, translator, and activist. She is University Professor at Columbia University and a founding member of Columbia's Institute for Comparative Literature and Society. She is one of the world's most prominent literary and cultural theorists, whose work continues to influence a broad range of fields, from literary criticism and philosophy to postcolonial theory and feminism. She is author of In Other Worlds: Essays in Cultural Politics (1987), A Critique of Postcolonial Reason: Toward a History of the Vanishing Present (1999), and An Aesthetic Education in the Era of Globalization (2012), among many other landmark books and articles. In 2012, she received the Kyoto Prize in Arts and Philosophy; in 2013, she received the Padma Bhushan, one of the highest civilian awards given by the Republic of India.
Click here for more details!