Special Events
August 19, 2020 11:00am-4:30pm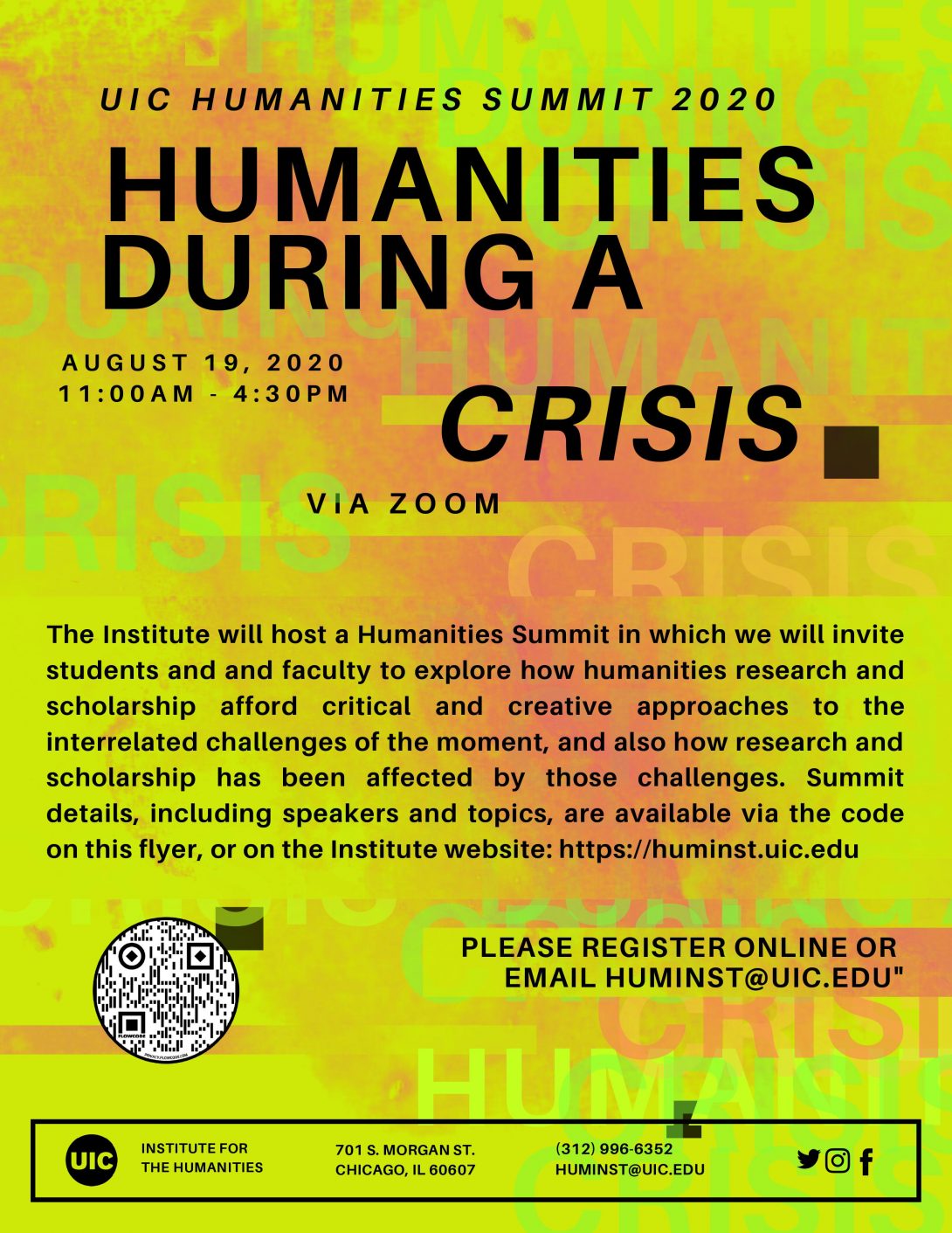 On line via Zoom
***For Zoom link, please RSVP by sending an email to huminst@uic.edu***
In the spring and summer of 2020, we've witnessed a global pandemic and increased violence–at state and local levels–against people of color.  This has been a time of grief, struggle, and resistance.  At this year's summit, held on line via Zoom, students and faculty will reflect on this moment of crisis, and think together about the essential role that humanities can take in addressing it.  We will also invite conversation about how the humanities has been transformed by current conditions, and how humanities work can promote new, reparative, and productive collaborations with communities throughout Chicago.
11:00-12:30 Welcome–Mark Canuel (UIC)
Students Speak: Students present Research Projects from the Engaged Humanities Initiative
Moderator, Ellen McClure (UIC)
12:30-1:00 Break
1:00-2:30 The Humanities During a Crisis
How are humanities disciplines responding to times of medical and political crisis?  How are interconnected crises encouraging humanities work to transform itself and respond in creative ways to our present conditions?
Moderator, Laura Hostetler (UIC)
David Stovall (UIC)
Nadine Naber (UIC)
Ralph Cintron (UIC)
Shiben Banerji (School of the Art Institute)
2:30-3:00 Break
3:00-4:30 Neighborhood Engagement and Collaboration Strategy with the Chicago Humanities Festival
The Chicago Humanities Festival is including a range of Chicago area institutions in a Mellon-funded effort to ignite humanities programming and participation in our neighborhoods.  Join us in an information and brain-storming session as we think about how to activate the humanities in the communities where we live and work.
Moderator, Mark Canuel (UIC)
Alison Cuddy (CHF)
Ira Murfin (CHF)
Ellen McClure (UIC)
Enid Wells (Kennedy-King College)
Darby  Johnson (Kennedy-King College)
Chloe Johnston (Lake Forest College)
***For Zoom link, please RSVP by sending an email to huminst@uic.edu***
September 19, 2019 8:30am-4:00pm
University of Illinois Press Fall Publishing Symposium
Institute for the Humanities
701 South Morgan, Lower Level / Stevenson Hall
University of Illinois at Chicago
*Stay tuned for expanded agenda and registration information*
Symposium Agenda
Download the Symposium Agenda as a PDF document
8:30 to 9:00
Coffee/tea, pastries, and conversation
9:00 to 9:10
Welcome
9:15 to 10:20
The Life of a Book: From Proposal to PublicationAND
Quick Pitch Meetings with Acquisitions Editors
10:30 to 11:45
New Directions in Journals PublicationsModerator: Robert Johnston, Department of History
11:45 to 1:00
Break – lunch will be provided to those who pre-register
1:00 to 2:15
Alternatives to Traditional PublishingModerator: Jennifer Brier, Program in Gender and Women's Studies & Department of History
2:30 to 3:45
Professional Development RoundtableModerator: Jane Rhodes, Department of African American Studies
Co-sponsored by: The Institute for the Humanities, the Office of the Vice Chancellor for Academic Affairs, and the UIC Office of the Vice Chancellor for Research
Questions? Contact Julie Laut (jlaut2@illinois.edu)
October 15, 2019 from 3 - 4:30 PM
Hank Reichman, California State University, East Bay
Chair of AAUP Committee A on Academic Freedom and Tenure
Author of The Future of Academic Freedom (Johns Hopkins University Press, 2019)'
Presentation based on The Future of Academic Freedom
*CANCELLED* March 16, 2020 from 4-6 pm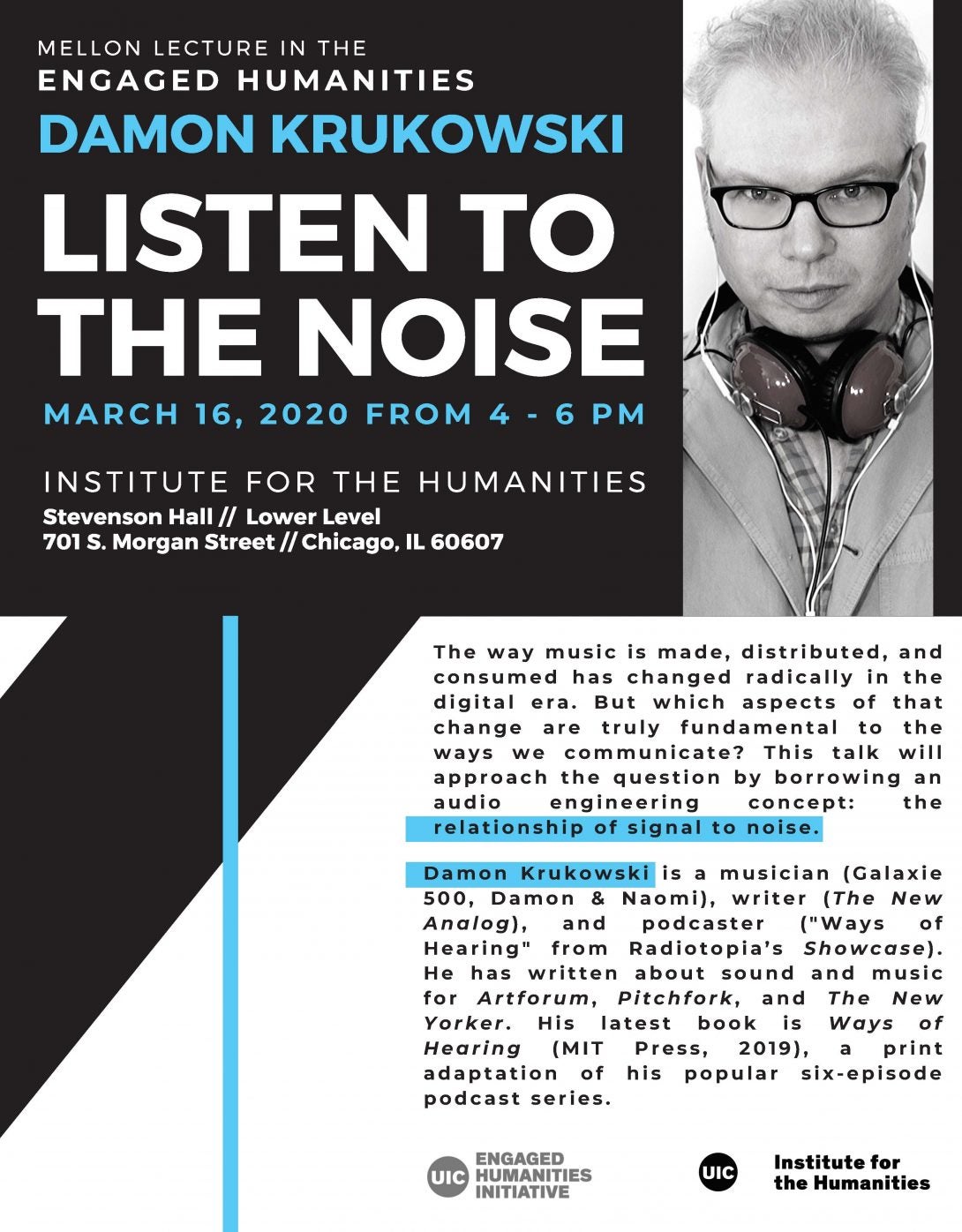 Mellon Lecture in Engaged Humanities, Spring 2020
Dave Krukowski: "Listen to the Noise"
The way music is made, distributed, and consumed has changed radically in the digital era. But which aspects of that change are truly fundamental to the ways we communicate? This talk will approach the question by borrowing an audio engineering concept: the relationship of signal to noise.
Damon Krukowski is a musician (Galaxie 500, Damon & Naomi), writer (The New Analog), and podcaster (Ways of Hearing, from Radiotopia's Showcase). He has written about sound and music for Artforum, Pitchfork, and The New Yorker. His latest book is Ways of Hearing (MIT Press, 2019), a print adaptation of his popular six-episode podcast series.
October 28, 2018 from 3 - 5 PM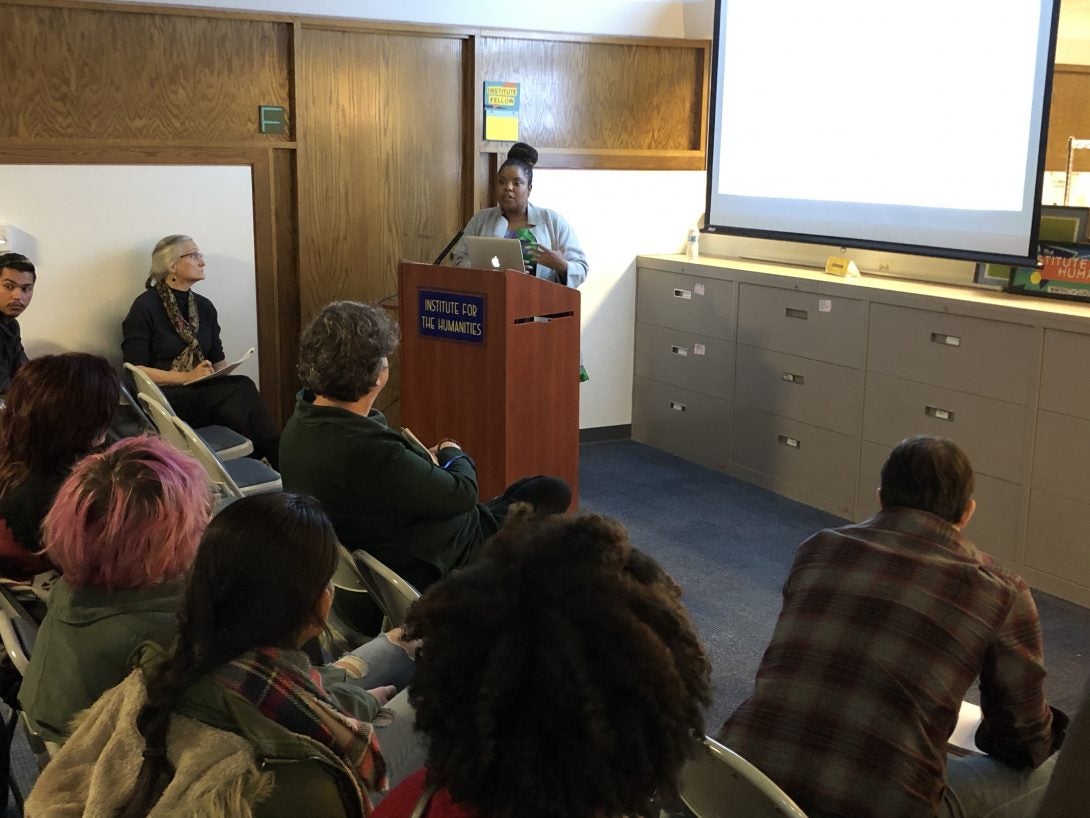 Mellon Lecture in Engaged Humanities, Fall 2019
Lolly Bowean, Chicago Tribune
"The Stories We Tell: The People We Are"
An examination of how marginalized and vulnerable communities are covered and written about in the mainstream media and the impact the coverage makes.
Lolly Bowean is a general assignment reporter at the Chicago Tribune who has a particular focus on urban affairs, youth culture, housing, minority communities and government relations. She writes primarily about Chicago's unique African-American community and the development of the Obama Presidential Center. During her tenure, she has written about the death of Nelson Mandela, how violence is lived in troubled neighborhoods, and the 2008 election and inauguration of President Barack Obama. Most recently, she covered the election of Chicago's first African-American woman Mayor, Lori Lightfoot. In addition, she's covered Hurricanes Katrina and Rita and the last gathering of the original Tuskegee Airmen.
November 18, 2019 from 3 – 5 PM
Engaged Humanities Initiative Student Showcase
April 15, 2020 from 1 - 3 PM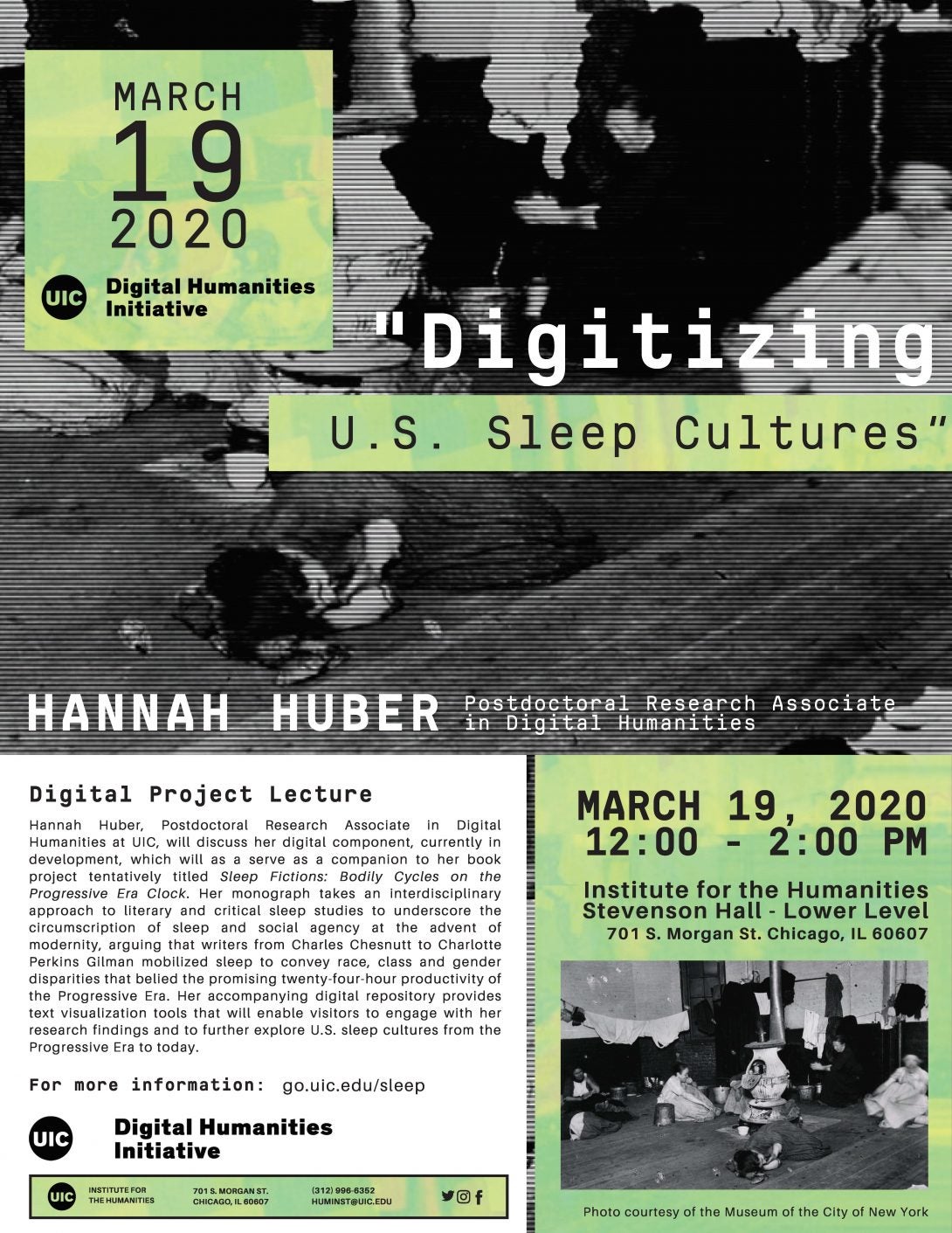 [Note: This event is rescheduled for April 15, 2020 as an online event (click link for Zoom meeting info)
Digital Research Project Lecture: "Digitizing U.S. Sleep Cultures"
Digital Humanities presentation by Hannah Huber, Postdoctoral Research Associate in Digital Humanities
Hannah Huber, Postdoctoral Research Associate in Digital Humanities at UIC, will present current work on an interdisciplinary, public history website she developed. The website will serve as a companion to her book project, which argues that writers from Charles Chesnutt to Charlotte Perkins Gilman mobilized sleep to convey race, class and gender disparities that belied the promising twenty-four-hour productivity of the Progressive Era. Taking an interdisciplinary approach to literary and critical sleep studies, Hannah investigates the ways in which sleep cultures circumscribed social agency at the turn of the twentieth century and underscores the impact of exhaustion and sleep disruption on marginalized and displaced bodies. The digital component Hannah is now developing will serve as a digital archive and text visualization tool that enables visitors to interact digitally with her research findings and to further explore U.S. sleep cultures from the Progressive Era to today.
February 27, 2020 from 9 - 4 PM
Digital Humanities in Practice: Project Development and Digital Pedagogy
Location: IDEA Commons Classroom, Daley Library; 801 S Morgan St, Chicago, IL 60607
Please see DHI page to register!:
[Workshop] Digital Humanities in Practice: Project Development and Digital Pedagogy
This workshop will be led by digital humanities experts from Michigan State University's Digital Scholarship Lab and will feature an introductory presentation, two breakout sessions with hands-on tutorials, and a provided lunch.
Topics include:
– Development, management, and life cycle of a DH project
– Finding and working with data
– Understanding and engaging in collaboration practices
– Hands-on instruction with mapping and data visualization tools
– Cultivating a digital pedagogy
Schedule:
9:00- Welcome & Introduction
9:15- Presentation: "Digital Humanities in Practice"
10:30- Breakout Session 1

Options:

A) Navigating the Mapping Landscape
B) Exploring Data Visualization Options with Flourish

12:30- Provided Lunch*
1:45- Breakout Session 2

Options:

A) Project Management and Collaboration
B) Simple Strategies for Adding DH into your Pedagogy

3:45- Closing Remarks

*Lunch will be provided in the Institute for the Humanities in the lower level of Stevenson Hall.

All other workshop events will take place in the IDEA Commons Classroom on the south end 1st floor of Richard J. Daley Library.

Contact
Hannah Huber (312) 996-6352;  h1huber@uic.edu
November 21, 2019 from 9-2:30
Digital Humanities Workshop: Literacy and Methods
This inaugural workshop for the Digital Humanities Initiative will work to enhance digital humanities literacy at UIC by focusing on incorporations of digital humanities methods in faculty and student scholarly work and extensions of digital humanities methods into teaching.
The workshop will be facilitated by Northwestern University's digital humanities specialists Matt Taylor and Josh Honn, who lead Northwestern's digital humanities collaboration between the University's Libraries, the Alice Kaplan Institute for the Humanities, and the Media and Design Studio of Weinberg College of Arts and Sciences.
Matt Taylor is IT Director and Director of the Media and Design Studio at Northwestern University. Matt has a background in computer engineering, but his life passions have always included the study of languages and cultures. Added to this is an opportunity to explore digital humanities, where his interest in the interplay between qualitative and quantitative methods takes shape.
Josh Honn is Digital Humanities Librarian at Northwestern University Library where he consults and collaborates with faculty and students on digital research, teaching, publishing, and scholarship projects in the humanities. He is particularly interested in (digital) culture, pedagogy, archives, curation, ethics, access, poetry, and activism.
Thursday, 21 November 2019
Richard J. Daley Library
IDEA Commons Classroom
Schedule:
9am- Introduction
9:15- Matt & Josh
10:30- Breakout Sessions
12:30- Provided Lunch
1:30: Optional Tour of Library's New Digital Scholarship Hub
Attendance is free with registration at dhi.uic.edu
Contact: Hannah Huber – h1huber@uic.edu
TBA Fall, 2020
Lecture: "Cosmic Internationalism"
Shiben Banerji, 2019-2020 Visiting Scholar, UIC Department of Art History
Assistant Professor, School of the Art Institute of Chicago
Sponsored by the Institute for the Humanities and Department of Art History
*CANCELLED* April 16, 2020; 10am-4pm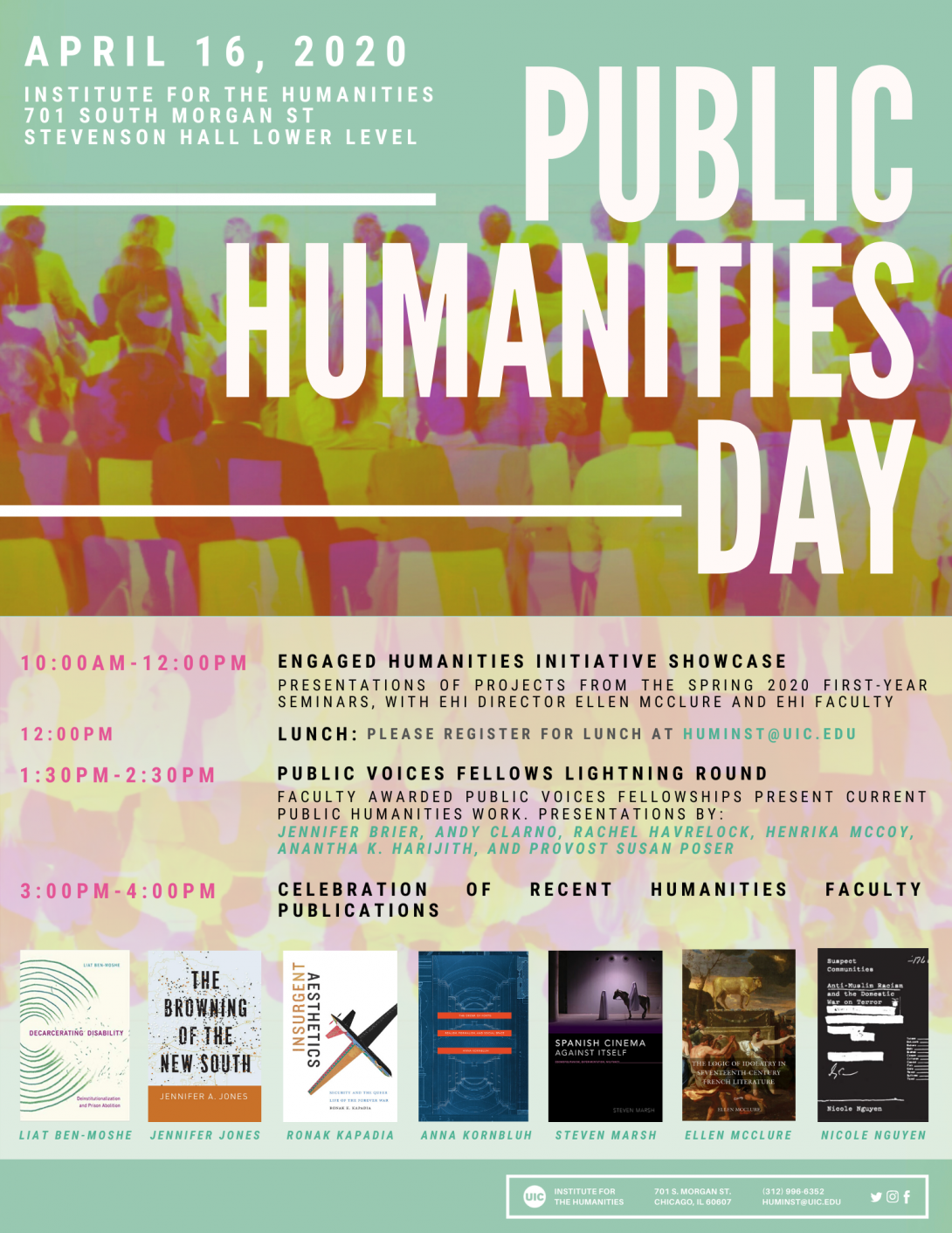 Public Humanities Day
Institute for the Humanities, 701 South Morgan, Stevenson Hall Lower Level
We would appreciate registration by 4/9/2020 if you intend to join us for lunch:  huminst@uic.edu
10:00-12:00
Engaged Humanities Initiative Showcase
Presentations of projects from the spring 2020 first-year seminars, with EHI Director Ellen McClure and EHI faculty.
12:00 Lunch (Provided)
1:00-2:30
Public Voices Fellows Lightning Round
Faculty awarded Public Voices Fellowships present current public humanities work:
Jennifer Brier, Gender and Women's Studies
Andy Clarno, Sociology
Rachel Havrelock, English
Anantha K. Harijith, Pediatrics
Henrika McCoy, Jane Addams College of Social Work
Susan Poser, Provost, Mellon Engaged Humanities Award PI
3:00-4:00
Celebration of Recent Humanities Faculty Publications
Liat Ben-Moshe, Decarcerating Disability: Deinstitutionalization and Prison Abolition (Minnesota UP, 2020)
Jennifer Jones, The Browning of the New South (Chicago UP, 2019)
Ronak Kapadia, Insurgent Aesthetics: Security and the Queer Life of the Forever War (Duke UP 2019)
Steve Marsh, Spanish Cinema Against Itself: Cosmopolitanism, Experimentation, Militancy (Indiana UP, 2019)
Ellen McClure, The Logic of Idolatry in Seventeenth-Century French Literature (Boydell & Brewer, March 2020)
Nicole Nguyen, Suspect Communities: Anti-Muslim Racism and the Domestic War on Terror (Minnesota UP, 2019)
4:00 – 5:00 PM
Institute for Humanities Spring Reception