Co-Sponsored Events
The UIC Institute for the Humanities welcomes the opportunity to co-sponsor humanities events with other units on campus.  To request support please see the Co-Sponsorship Request page.
February 26, 2020, 5 - 7 PM
"LOVE ANGER MADNESS: The Subtle Activism of Haitian-American Artist Jean-Ulrick Désert"
University Hall 1501
Artist talk/Presentation/Discussion with Jean-Ulrick Désert
Désert is a visual artist based in Berlin, Germany. Désert's artworks vary in form; billboards, actions, paintings, sculptures, videos and art objects. His work emerges from a tradition of conceptual art engaged with social/cultural concerns. He is known for his provocative and poetic projects, most notably his "Negerhosen2000," his "Burqa Project" and his "Goddess Projects." Désert has said his practice may be characterized as visualizing "conspicuous invisibility." He has exhibited at the Grand Palais, the Brooklyn Museum, the Studio Museum of Harlem, Galeria Sztuki Współczesnej Bunkier Sztuki, Haus der Kulturen der Welt, Savvy Contemporary and other venues in Europe, the Americas and Africa. He is the recipient of awards, public commissions, and private philanthropy. He is a graduate of The Cooper Union and Columbia University and has lectured at Humboldt University, Princeton, Yale, Columbia, Trans Art Institute, and École supérieure des Beaux-Arts. His work was selected as the solo artist for the Haiti Pavillion at the Venice Biennale 2019 and he is currently creating a permanent commemorative project at Berlin's Humboldt University on the American scholar W.E.B. Dubois.
Contact: School of Literatures, Cultural Studies and Linguistics (312) 996-5218 lcslweb@uic.edu
March 5, 2020, 4 - 5:30pm
"Refugee Stories: A Conversation with Bao Phi and Kao Kalia Yang"
UIC Daley Library 1-470
801 S. Morgan St.
A part of the GLAS Spring 2020 series on refugee issues, two award-winning writers, Bao Phi and Kao Kalia Yang, discuss their work on the history and experience of Asian refugees in American society.
Bao Phi has been a spoken word poet for over two decades. He has two collections of poems, both published by Coffeehouse Press, Sông I Sing and Thousand Star Hotel, the latter of which was nominated for the Minnesota Book Award and was chosen as 2017's best poetry book of the year by San Francisco State's Poetry Center. He is also the author of two children's books. A Different Pond received multiple awards including a Caldecott Honor, an Ezra Jack Keats Honor, Asian/Pacific American Librarians Association award for best picture book, the Minnesota Book Award for picture books, and the Charlotte Zolotow Award for excellence in children's book writing. My Footprints was named a Best Fiction Book for Young Readers by the Chicago Public Library.
Kao Kalia Yang is a Hmong-American writer. Born in the refugee camps of Thailand to a family that escaped the genocide of the Secret War in Laos, she came to America at the age of six. She is the author of The Latehomecomer: A Hmong Family Memoir, winner of the 2009 Minnesota Book Awards in Creative Nonfiction/Memoir and Readers' Choice, a finalist for the PEN USA Award in Creative Nonfiction and the Asian Literary Award in Nonfiction. Her second book, The Song Poet won the 2016 Minnesota Book Award in Creative Nonfiction Memoir, was a finalist for the National Book Critics Circle Award, the Chautauqua Prize, a PEN USA Award in Nonfiction and the Dayton's Literary Peace Prize. The book is the first Hmong story adapted into an opera by the Minnesota Opera (it will premiere in the spring of 2021). She also writes children's books and co-edited a collection of essays, What God is Honored Here?: Writings on Miscarriage and Infant Loss By and For Indigenous Women and Women of Color (University of MN Press). Kao Kalia Yang is also a teacher and a public speaker.
Funded by AANAPISI Initiative
Other cosponsors: UIC AANAPISI Initiative; Chancellor's Committee on the Status of Asian Americans (CCSAA), Institute for the Humanities
Additional details here: https://glas.uic.edu/events/refugee-stories-a-conversation-with-bao-phi-and-kao-kalia-yang/
October 21-25, 2019 each day at 12:00 PM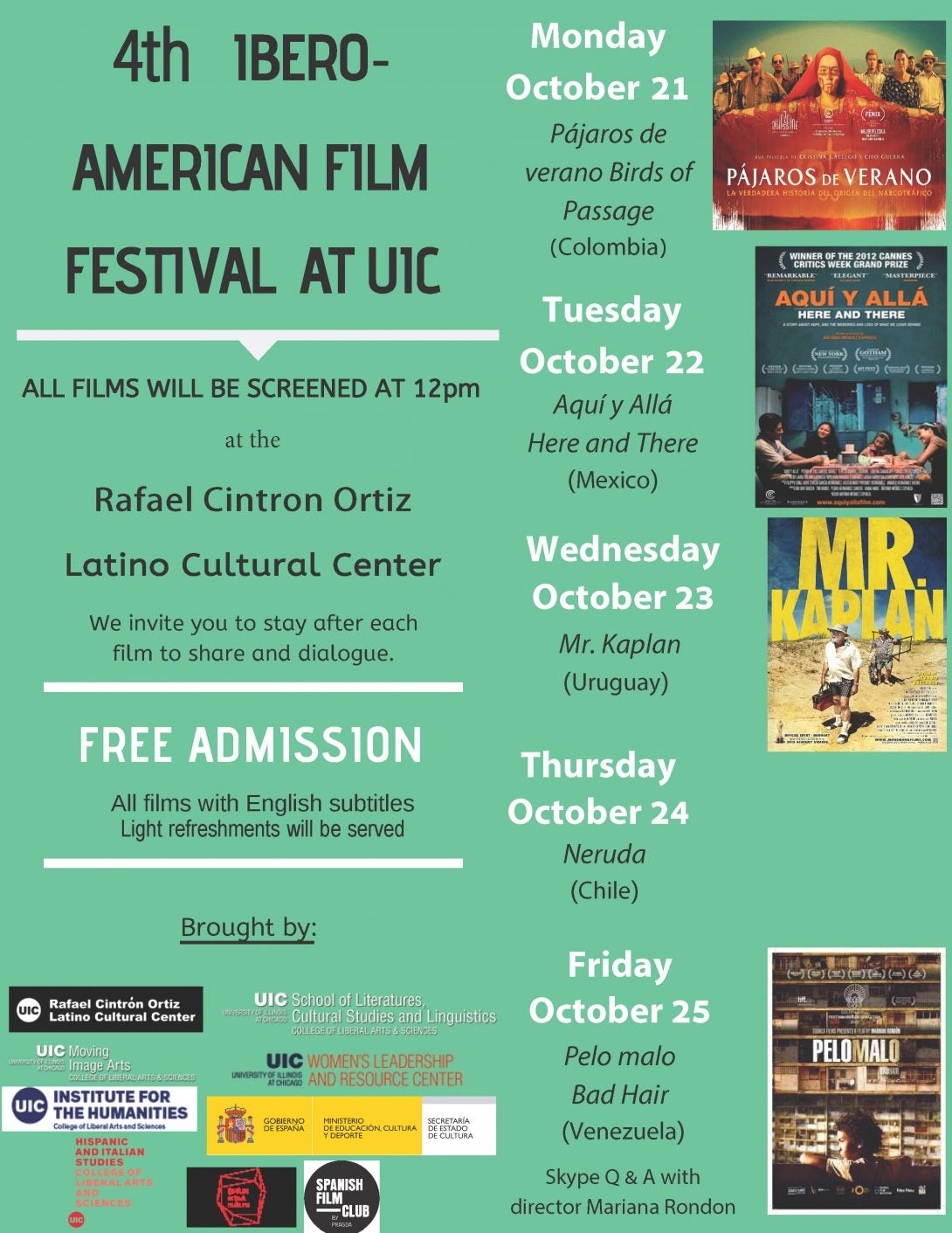 Ibero-American Film Festival at UIC
Latino Cultural Center
Organized by Department of Hispanic and Italian Studies
October 11, 2019
Mini-Conference on Modern Latin American Art
Location Henry Hall Room 106
Organized by Department of Art History
October 5, 2019 from 2-4 PM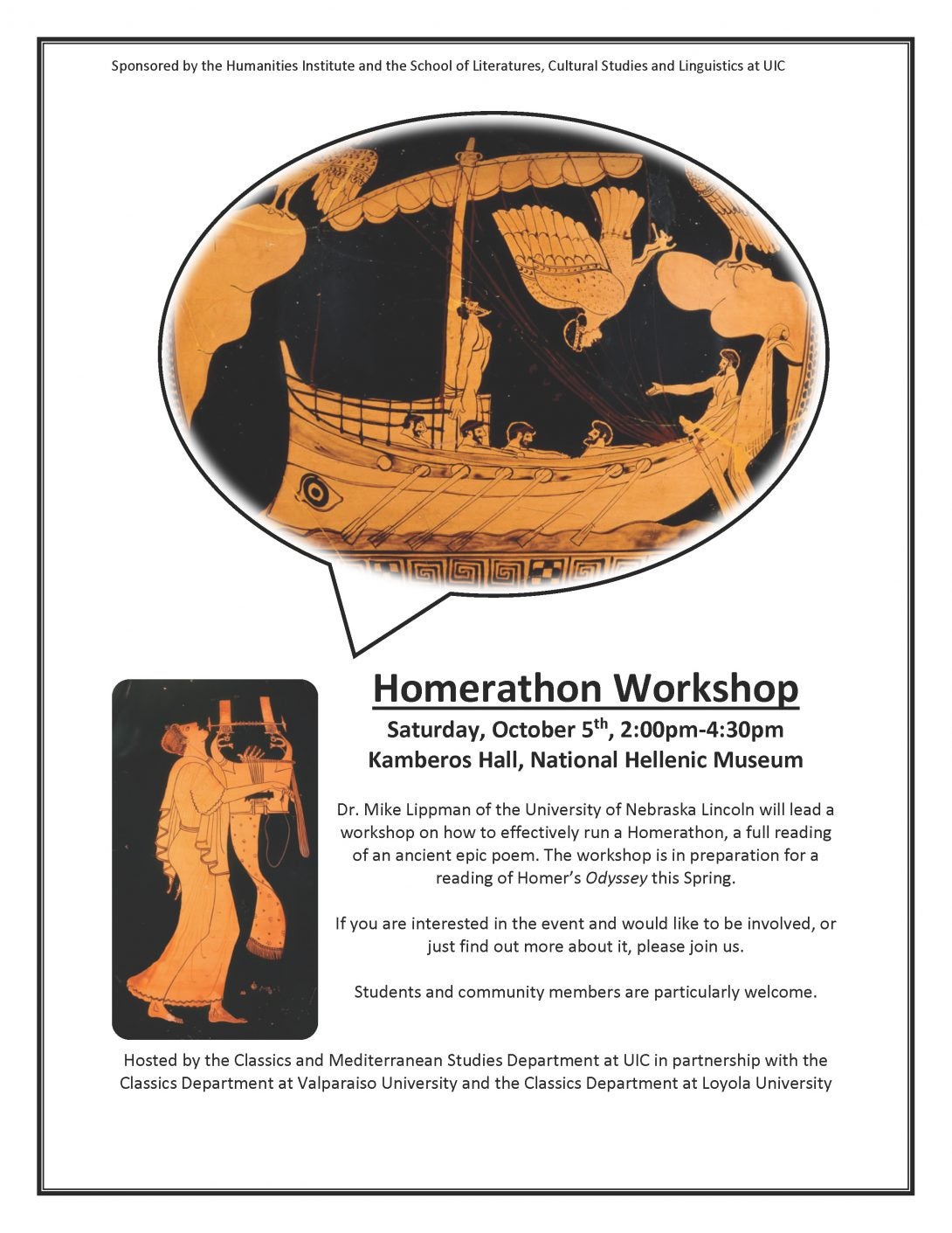 Homerathon Workshop
Organized by UIC Classics and Mediterraneam Studies, Classics at Valparaiso, Classics at Loyola University Chicago
October 4, 2019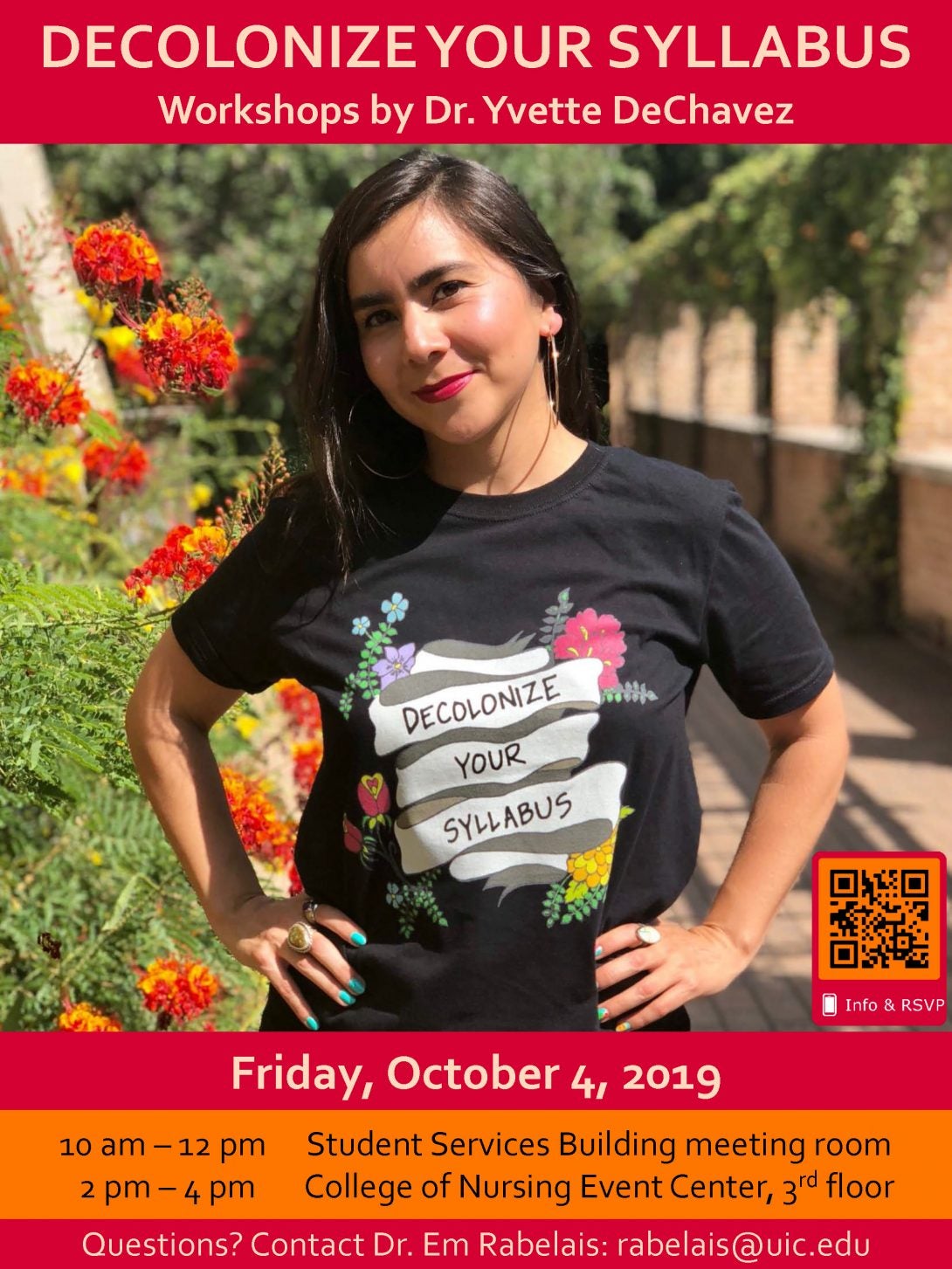 Decolonize Your Syllabus: Workshops by Dr. Yvette
Organized by Dr. Em Rabelais, College of Nursing
September 11, 2019 12-1:30pm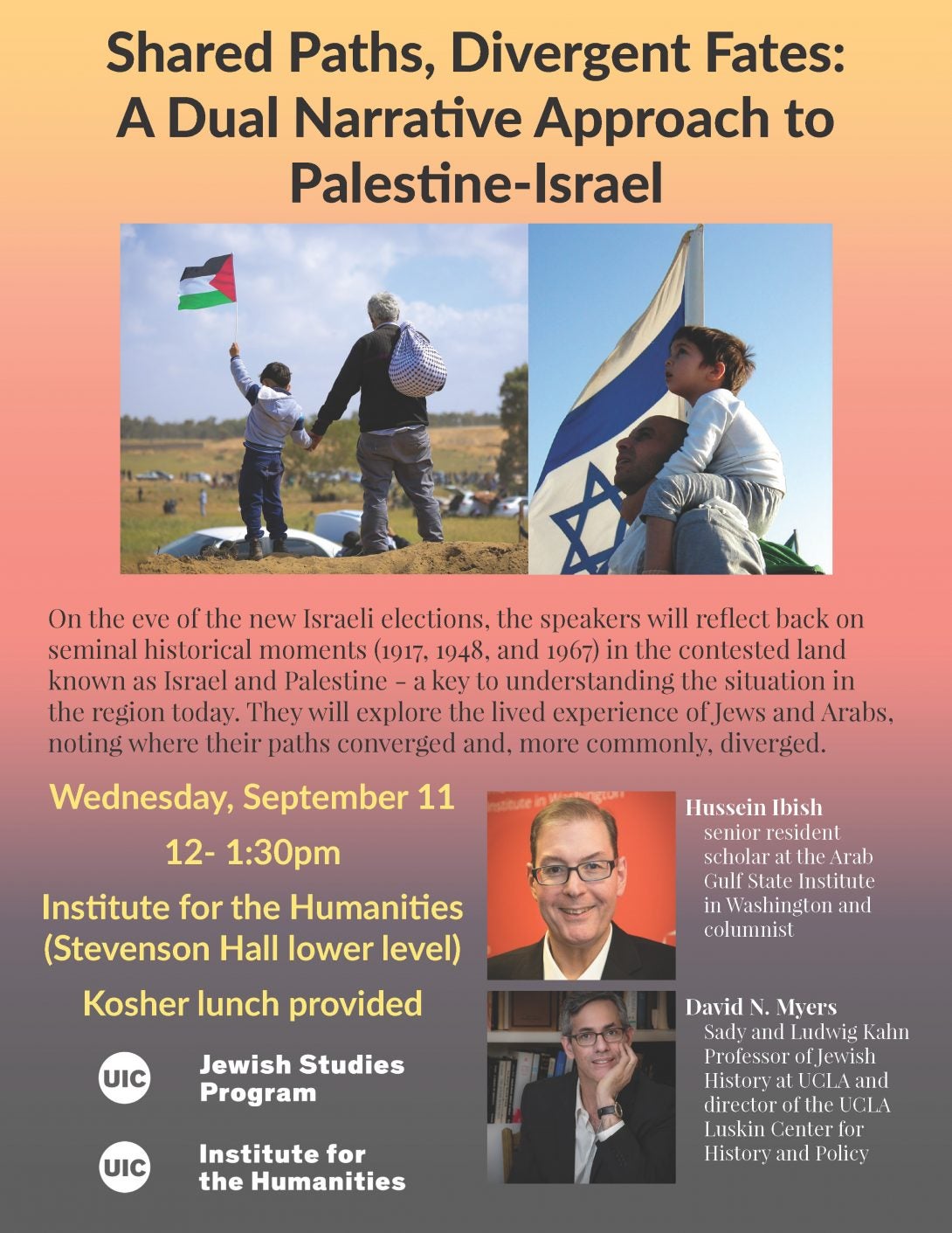 Shared Paths, Divergent Fates: A Dual Narrative Approach to Palestine-Israel With Hussein Ibish, and David Myers
Organized by Jewish Studies, Religious Studies, and Philosophy
September 11, 2020 9:30am-3:30pm
***Canceled***
Right Wing & the Media
Location: Richard J. Daley Library (801 S. Morgan St.)
Conference:  "The Right Wing and the Media"
Keynote speaker: Samuel C. Woolley, School of Journalism, Moody College of Communication at the University of Texas at Austin.
Sponsored with the Germanic Studies and Communication Departments, the Institute for the Humanities, and the LCSL