Engaged Humanities Initiative
The Engaged Humanities Initiative is a new program at UIC funded by a grant from the Mellon Foundation. It is a four-year path for undergraduates that leads from exciting freshman seminars to research projects developed with a UIC faculty mentor. More broadly, it offers the opportunity to create a community of students and faculty members interested in exploring how the humanities can help us imagine new approaches, and even solutions, to the urgent problems facing the world today.
EHI Events
In addition to four-year classroom initiatives, the EHI invites all to public programs in the Institute for the Humanities:
*CANCELLED* March 16, 2019 at 4 PM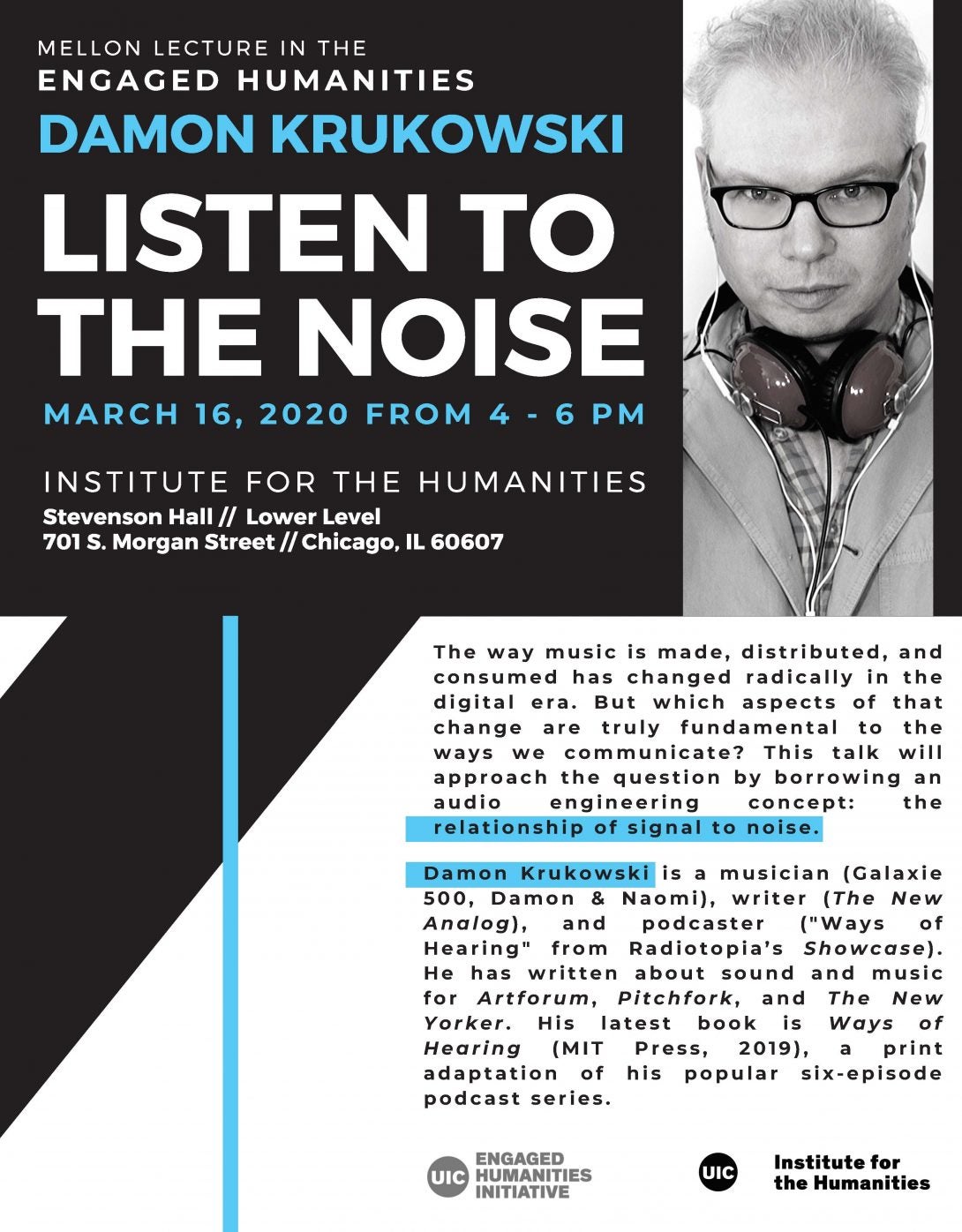 Mellon Lecture in Engaged Humanities, Spring 2020
Damon Krukowski: "Listen to the Noise" 
The way music is made, distributed, and consumed has changed radically in the digital era. But which aspects of that change are truly fundamental to the ways we communicate? This talk will approach the question by borrowing an audio engineering concept: the relationship of signal to noise.
Damon Krukowski is a musician (Galaxie 500, Damon & Naomi), writer (The New Analog), and podcaster (Ways of Hearing, from Radiotopia's Showcase). He has written about sound and music for Artforum, Pitchfork, and The New Yorker. His latest book is Ways of Hearing (MIT Press, 2019), a print adaptation of his popular six-episode podcast series.
October 28, 2019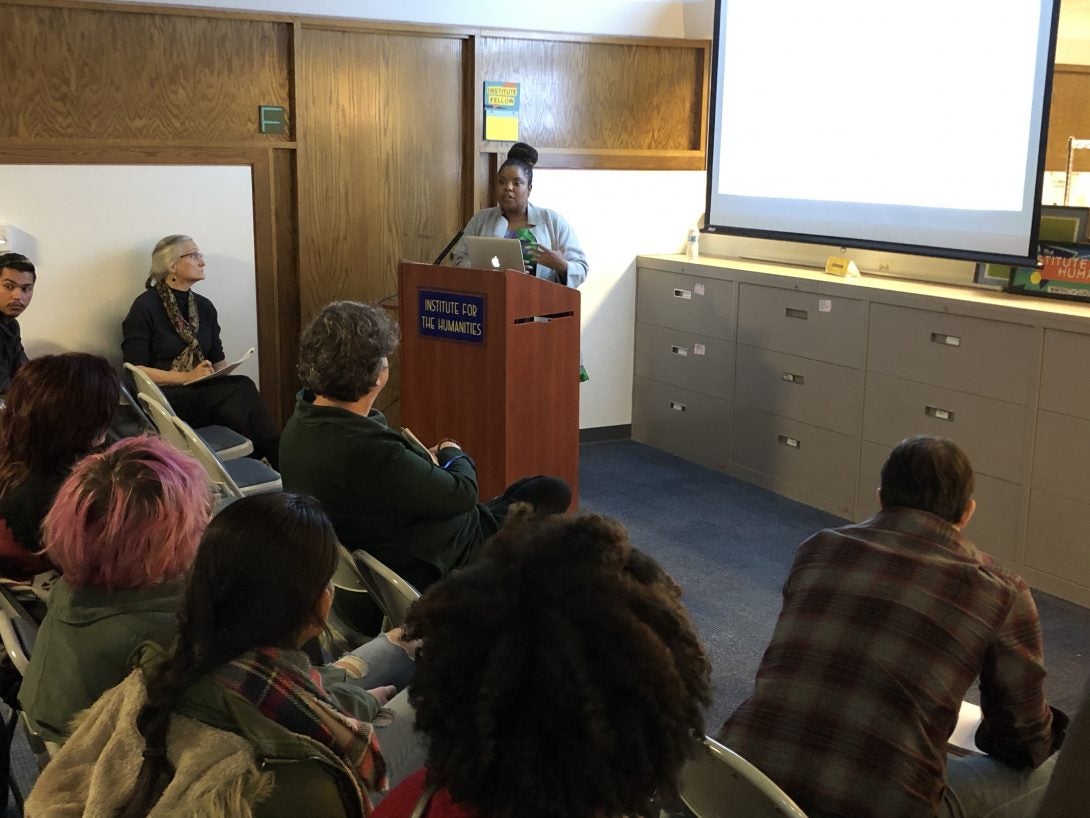 Mellon Lecture in Engaged Humanities, Fall 2019
Lolly Bowean, Chicago Tribune
"The Stories We Tell: The People We Are"
An examination of how marginalized and vulnerable communities are covered and written about in the mainstream media and the impact the coverage makes.
Lolly Bowean is a general assignment reporter at the Chicago Tribune who has a particular focus on urban affairs, youth culture, housing, minority communities and government relations. She writes primarily about Chicago's unique African-American community and the development of the Obama Presidential Center. During her tenure, she has written about the death of Nelson Mandela, how violence is lived in troubled neighborhoods, and the 2008 election and inauguration of President Barack Obama. Most recently, she covered the election of Chicago's first African-American woman Mayor, Lori Lightfoot. In addition, she's covered Hurricanes Katrina and Rita and the last gathering of the original Tuskegee Airmen.
*CANCELLED* April 16, 2020, 10am-4pm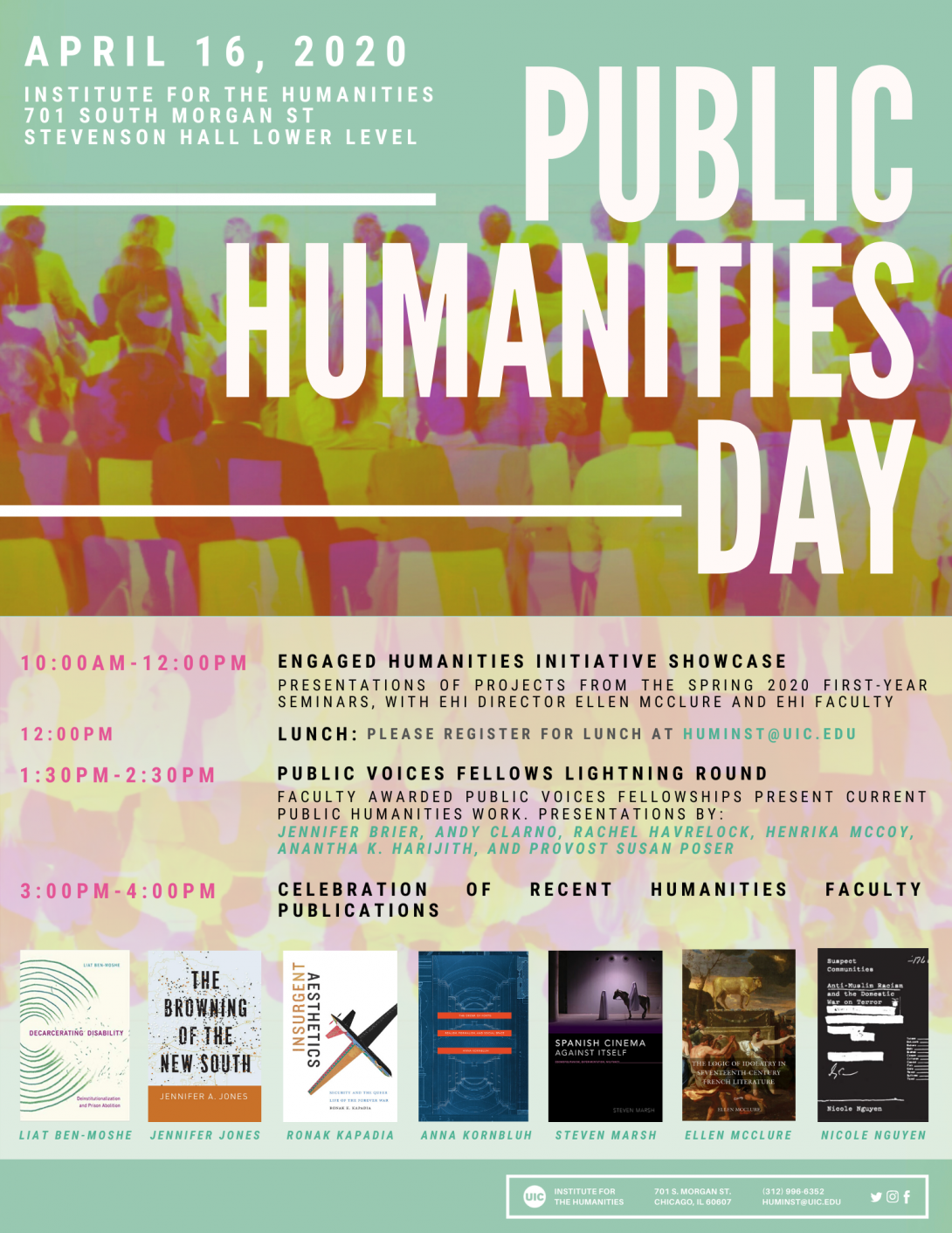 Public Humanities Day
Institute for the Humanities, 701 South Morgan, Stevenson Hall Lower Level
We would appreciate registration by 4/9/2020 if you intend to join us for lunch:  huminst@uic.edu
10:00-12:00
Engaged Humanities Initiative Showcase
Presentations of projects from the spring 2020 first-year seminars, with EHI Director Ellen McClure and EHI faculty.
12:00 Lunch (Provided)
1:00-2:30
Public Voices Fellows Lightning Round
Faculty awarded Public Voices Fellowships present current public humanities work:
Jennifer Brier, Gender and Women's Studies
Andy Clarno, Sociology
Rachel Havrelock, English
Anantha K. Harijith, Pediatrics
Henrika McCoy, Jane Addams College of Social Work
Susan Poser, Provost, Mellon Engaged Humanities Award PI
3:00-4:00
Celebration of Recent Humanities Faculty Publications
Liat Ben-Moshe, Decarcerating Disability: Deinstitutionalization and Prison Abolition (Minnesota UP, 2020)
Jennifer Jones, The Browning of the New South (Chicago UP, 2019)
Ronak Kapadia, Insurgent Aesthetics: Security and the Queer Life of the Forever War (Duke UP 2019)
Steve Marsh, Spanish Cinema Against Itself: Cosmopolitanism, Experimentation, Militancy (Indiana UP, 2019)
Ellen McClure, The Logic of Idolatry in Seventeenth-Century French Literature (Boydell & Brewer, March 2020)
Nicole Nguyen, Suspect Communities: Anti-Muslim Racism and the Domestic War on Terror (Minnesota UP, 2019)
4:00 – 5:00 PM
Institute for Humanities Spring Reception
March 11, 2019
Mellon Lecture in Engaged Humanities, Spring 2019
Marcia Chatelain, Georgetown University
"Better Living Through the Humanities: Teaching, Research, and Social Justice"
October 4, 2018
Mellon Lecture in Engaged Humanities, Fall 2018
Paige West, Columbia University
"A Prayer for the World: Imagining a Future in the Face of Climate Change, Dispossession, and Transformation"